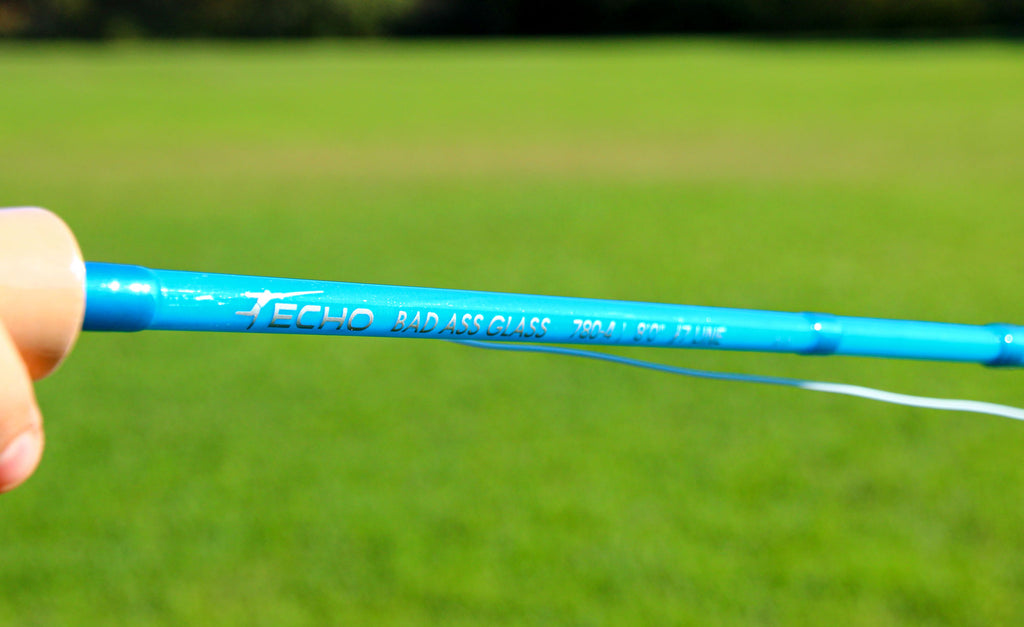 This past weekend, Leif and I took Echo's Bad Ass Glass Quickshot out for a spin. We've been very curious about how this rod could stand up to various presentations and distances with a floating line, as well as its versatility with a sinking line/streamer rigs. Echo also updated this rod to the "Quickshot" last year, decreasing its length from nine feet to eight. This should make things interesting...
Although fast action rods are more popular with streamer fishermen, I've been hearing recently that some anglers prefer fiberglass rods when chucking meat. So, we brought a couple of fly lines out with us to get a good idea of this rod's capabilities, and got started.
Rod Tested: Bad Ass Glass Quickshot 8' 7wt (780-4)
Fly Lines Used: Scientific Anglers Master Bonefish WF7F + Scientific Anglers SONAR Titan Hover/Sink 2/Sink 4 WF7S
The first line that we cast was the SA Mastery Bonefish. This is one of my favorite lines not only for bonefish, but using as a testing line. The reason for this is that it is a very "true to weight" fly line. This means that it is essentially dead on for what AFFTA lists as being within their "fly line weight specifications." It is also a pretty middle-of-the-road taper which isn't too aggressive nor presentation-minded. So, it's a great line to get a feel for what fly rod does right out of the gate. The WF7F is listed at 185gr. 
Leif and I both felt that the B.A.G. Quickshot was incredibly accurate at about 50-60ft and closer. After that, things started to fall apart and it was pretty clear that the rod started to run out of steam. There was about a 10mph wind which we were casting directly into, so this was not unlike any bonefish flat. But, boy was it accurate. You had a great feel for where the fly was going to land and you could easily pick up all 40-50ft of line and re-cast without issue. This would prove very helpful on a bonefish flat. Our casting had to slow down noticeably in order to negotiate the slower action of the rod, but really not too much. The Echo Bad Ass Glass Quickshot notes the action as "Glass Fast" which I think is honestly very accurate. 
I didn't expect this rod to deal well with more weight. The B.A.G. is advertised as being a rod "designed for big game fisheries where you need to huck big rigs to big fish and do it quickly.  Something previously thought of as well outside the world of fiberglass rods!" I thought there was going to be more marketing behind this claim than actual real life application. But, this rod can absolutely deal with heavier rigs and streamers. We were pleasantly surprised! The shock absorption of the (slower) fiberglass makes negotiating those heavy streamers pretty easy as it does not present as much of a jerky/clunky feeling when the fly hits either end of the cast. Your casting style/timing needs to be changed a little, but nothing more. 
The next line was an aggressively tapered SA SONAR Titan sinking line, weighing in at 240gr. At first, as mentioned above, I did not think this rod was going to like more aggressive lines/weight. But this really surprised me. We were able to cast, at distance, better than the Mastery Bonefish line. The B.A.G. picked up and shot this line out with ease; 90-100ft still needed some serious effort, but anything within 70ft or so was manageable. Like any sinking line, we were more accurate with better presentation with the floating (bonefish) line, but it was a pleasure to cast. 
Overall...
We were pleasantly surprised. We both knew that the fiberglass rod was going to be lots of fun to cast short distances with a floating line, but what was so apparent was the extra horsepower the Quickshot gave us. Not only would this be a capable stick for big fish and big streamers, but the inherent nature of the fiberglass would make it an incredibly accurate and fun rod to bring out on a bonefish flat!
There were some noticeable drawbacks while casting into gustier winds, but a lot fewer than I expected. The flexibility of this fiberglass rod also gives it great shock absorption qualities. While fighting fish, this could mean less fish breaking/popping off, which is definitely an area of concern while fishing for anything from trout to bonefish. Normally with faster graphite rods, the stiffer action can become a draw back while dealing with (larger) fish making abrupt runs, head shakes, etc., and can lead to losing fish. 
For those who are looking for a new streamer rod for trout, pike, or musky or curious about how accurate of a presentation a good fiberglass rod can give you while bonefishing, Echo's B.A.G. is absolutely worth checking out. If you are used to faster graphite rods, you will have to slow down and change your casting style a little. But it might be worth it!